Logan County Animal Rescue (LCAR) is a 501(c)(3) Non-Profit Organization. Your generous donations help LCAR save and transport dogs and cats to no-kill shelters around the state. We also pay for necessary veterinary costs and food. Your monetary donation may be tax deductible! If you are looking to donate this year to a great organization that gives back to the community, consider donating to LCAR, and we will give you a receipt for your taxes. Please mail your monetary gifts to:
Logan County Animal Rescue
750 Prairie Street
Lincoln, IL 62656
---
We accept donations through PayPal. Helping our furry friends is as easy as clicking on the Donate button below:
---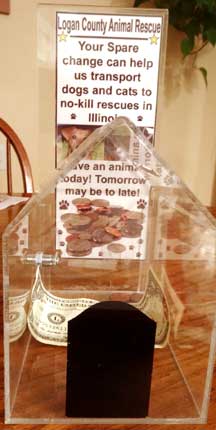 LCAR Donation Boxes
Your spare change can help us transport dogs and cats to no-kill rescues in Illinois. Save an animal today! Tomorrow may be too late!
LCAR has cash donation boxes at the following locations:
• Beck's BP gas station, 1010 Heitmann Drive, Lincoln
• Big R, 1501 Woodlawn Road, Lincoln
• Logan Co. Animal Control, 1517 N. Kickapoo Street, Lincoln
Your direct cash donations to LCAR ensures that LCAR can continue to feed, care for, and transport homeless dogs and cats. Please help those who cannot help themselves!
---
If you are short on cash but have some free time, donate your time instead of money. Helping out your local animal shelter is an inexpensive way to help these orphaned animals. Volunteering is a great opportunity to help an organization that may be short on employees and/or other volunteers, and as a bonus, you will be amazed at how good you feel as a result! These animals want to be walked, brushed, and socialized. Cats and dogs both would love to see you come out and spend some time with them, as these animals are very social creatures, and they need your company. The more socialization the animals receive, the better their chances are of getting adopted. If you would like to lend a hand, please contact your local shelter or rescue organization.